Back To Our Services
Our attic specialists can provide you with everything from insulation services to decontamination, and everything in between. We offer both commercial and residential solutions so, no matter your problem, we can resolve it. Here are a few of the services we have to offer:
Attic Cleaning & Decontamination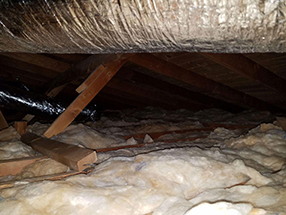 If there are uninvited guests such as birds or rodents living in your attic, you need our decontamination technicians to clean it. This must happen before any new insulation installation takes place. Apart from the associated health risks, these creatures will damage your insulation, which means your heating costs will be literally going through the roof! Contact us as soon as you become aware of any potential contamination.
Insulation replacement & installation
In almost all cases of rodent infestation or heat loss, some insulation replacement is necessary. Whether you need to replace all or some of the existing insulation, we have the best types of materials to use, and we'll help you decide on the most affordable option for you. Our friendly team will remove the old material and dispose of it safely. We'll schedule the new installation at a time that will cause you the least possible amount of inconvenience. When the work is finished, we'll clean the area again.
Commercial Services
If your attic insulation is degrading for any reason, you may be potentially placing your employees at risk. Airborne fibers can exacerbate allergies as well as other breathing difficulties such as asthma. In addition, your energy costs will be higher as hot or cold air could be escaping through your roof. New insulation is a great way to avoid these types of problems.
Contact our Air Duct Cleaning Redwood City team today to learn more about the benefits of keeping your attic in a pristine condition and how our offered services can save you money and time.
Back To Our Services